INGREDIENTS:
1 banana
1/2 mango
a handful strawberries
2/3 cup  coconut water
1 - 2 teaspoon Lucuma Powder from www.mysuperfood.de
1 - 2 strawberries for decoration
Time needed:
5 min 
Portions:
For 1-2 glasses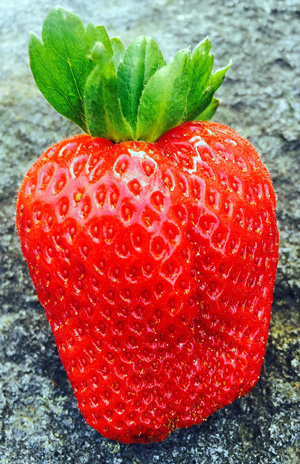 PREPARATION:
Peel banana and mango, put pulp in the mixer. Wash strawberries, remove stalks, add to the blender.
Add coconutwater and 1-2 teaspoons, puree for a few minutes. Afterwards pour Smoothie into glasses.

For decoration cut strawberries into slices and put onto Smoothie. You also can use desiccated coconut as topping.

For those who like it a bit cooler on hot days, put banana and strawberries before mixing into a freezer and let them freeze.

This super-delicious Strawberry-Smoothie brings energy in the morning and helps against hang-over during the afternoon. And the colour is an eye-catcher for itself and perks you up.
Nutritional values:
LUCUMA is a delicious and healthy sugar substitute –and even low-calorie and it has a low glycemic load. Good for diabetics because blood sugar levels after eating LUCUMA rises only slowly .

The fruit is rich in nutrients . You can find proteins, fiber, calcium and iron, potassium, magnesium, phosphorus and zinc, beta carotene, vitamin B1, B2, B3 and vitamin C.
STRAWBERRIES have zero grams of fat and are full of valuable nutrients. Their phytochemicals ferulic and ellagic acid are said to have a cancer preventive effect .

In addition, polyphenols and anthocyanins are contained, also good as a defense .
The red fruits provide more vitamin C than lemons or oranges, 150 g strawberries are already sufficient for the daily requirement.

In addition there are the vitamins A, B2, B3, E and K and folic acid. Calcium protects the bones, iron helps in anemia, potassium and magnesium are good for the heart .
BANANAS help to overcome depression due to high levels of tryptophan, which is converted into serotonin - a happy-mood brain neurotransmitter. They are also very nutritious and score with their minerals potassium and magnesium, good for athletes avoiding muscle cramps and getting more energy for a workout. Potassium and a low level of salt also helps to lower blood pressure and protects against heart attack and stroke.

Bananas strengthen the nervous system and help with the production of white blood cells, due to high levels of vitamin B6. Iron helps to strengthen the blood and relieve anemia. 

MANGO is a strong provitamin A supplier and thus helps in cell renewal of skin, mucous membranes and cartilage and the strengthening of eyesight . Their Vitamin C - five times more than oranges - is good for the immune system and its iron for blood formation. 

COCONUT WATER contains many nutrients, particularly a lot of potassium. Fat and sugar, however, are hard to find, good for a low-calorie drink . It's isotonic, this means their molecular structure is similar to human blood plasma.

Enjoy your Smoothie !