In order to protect yourself from colds and flu viruses and in general from diseases, a strong immune system is urgently needed. Fortunately you can strengthen and build up your immune system with simple measures.
Not only Social Distancing and washing your hands has a supporting effect on the immune system, but also the so-called BERN principle. These four letters combine four rules of conduct for good health:
Behaviour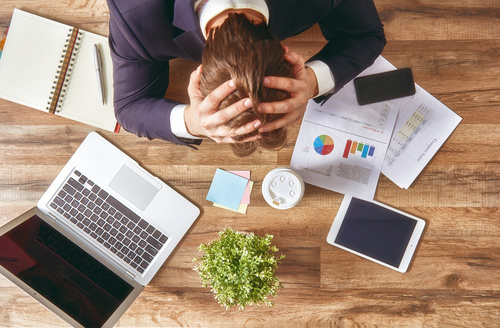 Negative stress can cause stress. And stress increases cortisol levels in the body, which in turn weakens the body's defenses. Chronic stress can significantly weaken the immune system and make the body vulnerable to infections. It is therefore important to adopt stress-reducing behavior.
Exercise (Movement)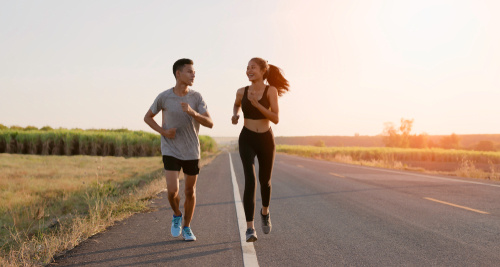 Exercising helps to strengthen the immune system. Endurance and strength training as well as coordination and balance exercises cause the body to release more adrenaline. This hormone stimulates the defence cells to multiply faster and to be active.
Even small changes in everyday life can have an effect, such as taking the stairs instead of the lift or a short walk in the evening.
Relaxation (Recreation)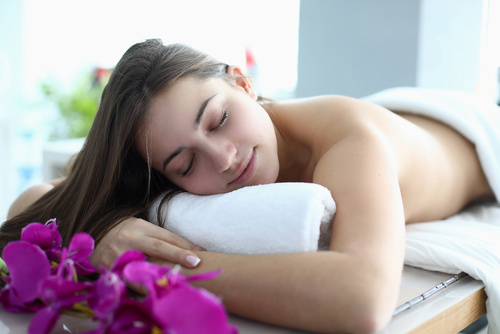 Relaxation and recovery are further measures for a strong immune system. A good thing is seven to eight hours of sleep so that the body can recover overnight. Because sleep supports the work of the defence cells. Even three hours of sleep deprivation can impair the immune system, as a study by scientists at the University of Lübeck and Tübingen has shown.
Meditation and yoga are also helpful in relaxing and doing good for the body.
Nutrition (Diet)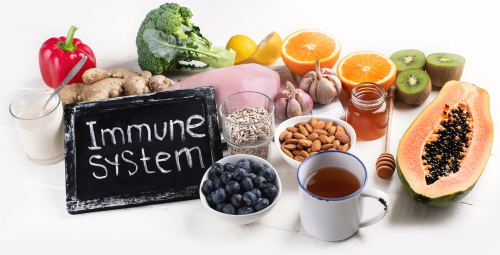 A healthy and varied diet is another cornerstone for a strong immune system. Colorful vegetables in particular, with their numerous vital substances, help to strengthen the body's defenses. Beta-carotene, for example, stimulates the white blood cells and protects against infections.
Pulses such as lentils, beans, soya and peas contain saponins which have antibiotic and anti-inflammatory effects.
Onions contain essential oils that also have antibiotic properties and, with their flavonoid quercitin, they help prevent viruses and have a supportive effect on colds.
Also ginger with anti-inflammatory and antibacterial characteristics is to help for example with colds, travel sickness, stomach and intestine complaints as well as muscle pain owing to ethereal oils and sharp materials.
Sea buckthorn is also known to strengthen the immune system with a high vitamin C content in its berries and to have an antibacterial effect. The fruit Camu Camu also offers a very high content of vitamin C, even over 30 times more than in an orange.
The trace element zinc, which is contained in meat, has a virus-inhibiting effect and can alleviate a cold at the first symptoms. Therefore a chicken soup is so good to help against a flu-like infection. The ingredients in the soup help to inhibit inflammatory processes in the throat and nose area.
Fast food should be avoided at all, as it can weaken the immune system, almost like a bacterial infection. A study of the Rheinische Friedrich Wilhelms University of Bonn has shown this.
To stay healthy and to protect yourself you can achieve with quite simple measures. You can integrate them into your everyday life step by step: that is to say, to pay attention to recovery and relaxation, to do more sports or even to move more and to pay attention to a balanced diet.
Photos: Shutterstock