A salad with fruits or vegetables is together with great toppings like nuts and our superfoods like canihua seeds or sacha inchi powder a nutritious and immune strengthening meal. And if you like it fast, just put everything in the blender and conjure up a creamy and fruity smoothie.
INGREDIENTS:
TIME REQUIRED:
5 minutes
Portions:
1 serve
INSTRUCTIONS:
Cut the grapefruit in half, peel and cut into thin slices. Place them on a plate in a fan shape.
Halve the pomegranate, carefully remove the seeds and add to the grapefruit slices.
Quarter lemons, cut into 1-2 slices and decorate the vitamin salad with them.
Sprinkle with Canihua seeds and Sacha Inchi powder.
Tip: Of course you can prepare this salad with many other fruits or vegetables. It is also good for the immune system to add grated fresh ginger to the salad. The combination of fruity sweetness and aromatic spiciness is a special treat.
NUTRIENTS: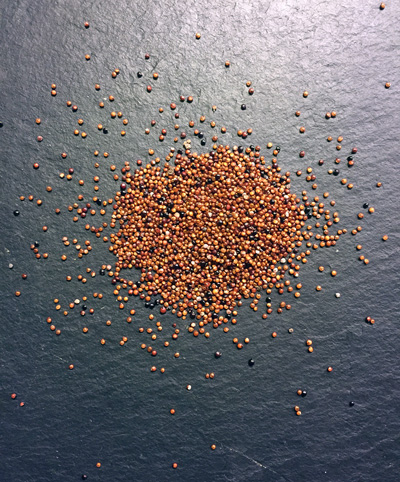 CANIHUA seeds are the rather unknown sisters of quinoa, but: they are smaller and have a much higher protein content.
Canihua provides folic acid that is so important for pregnancy. The body needs it for cell division, for blood formation and is also important for protein metabolism (100 g correspond to 123% of the recommended daily dose).
Canihua also has valuable fiber - and is gluten-free.
In addition, Canihua has a high mineral content such as magnesium and especially iron for blood formation (14 mg per 100 g, corresponds to about 80% of the recommended daily dose for women, 120% for men) as well as zinc for supporting the immune system.
Canihua has a significant number of essential amino acids that the body cannot produce and must absorb through food: Lysine, isoleucine, phenylalanine and tryptophan.
It is interesting to note that although Canihua grains taste like chocolate, they contain 2/3 less fat. And a further plus point: they consist of 40 % linoleic acid, which is beneficial for the body.
Canihua has been used in Peru and Bolivia for centuries as a naturopathic remedy for bacterial intestinal infections. This plant is also said to help against altitude sickness.
Unlike quinoa, Canihua does not contain any bitter substances that need to be removed.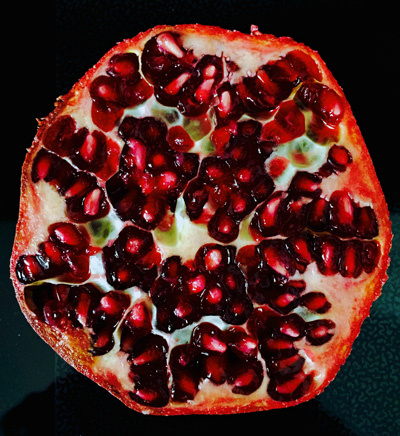 POMEGRANATE - is a true power fruit. Bright red and with many small and fruity seeds, it scores with vitamins, minerals and secondary plant substances. Vitamin C, B1, B2, B6, folic acid and vitamin E as well as beta-carotene can be found here.
The minerals and trace elements contained in this fruit are mainly potassium and calcium, iron and magnesium as well as phosphorus and zinc.
It also contains up to 20 different polyphenols, especially flavonoids and tannins, which have an antioxidant and cell-rejuvenating effect and also strengthen the immune system.
They are also said to have a stimulating effect on the digestion thanks to their bitter substances and to be anti-inflammatory, to lower the cholesterol level and to be able to keep the blood sugar level constant. According to studies, they are also said to have a positive influence on prostate cancer.
Likewise a positive effect is to have pomegranate juice with the fight of cancer of the breast, as research results show.
Pomegranates grow in the tropical or subtropical climate. And they also have another advantage: they have a long shelf life and few calories: 100 g contain 74 kcal.
One should also pay attention to interaction with drugs, similar to grapefruit juice. Because after consumption some substances are broken down more slowly.
GRAPEFRUIT - This sweet-tart citrus fruit scores with many advantages: Its ingredients are said to help, for example, to make body fat melt faster, thanks to a bitter substance called naringenin, which causes the liver to break down more fatty acids.
Vitamin C helps the immune system, pectin helps digestion and lowers the cholesterol level.
The carotenoid lycopene, which blocks free radicals and protects body cells, is abundant. Vitamins of the B group are also found, especially folic acid.
Who takes however antidepressants to itself or on asthma and heart medicines is dependent, should be careful because of the interaction of grapefruits with these and ask only its family doctor whether the consumption is then okay. So-called furanocoumarins are said to be responsible for the fact that some drugs do not work.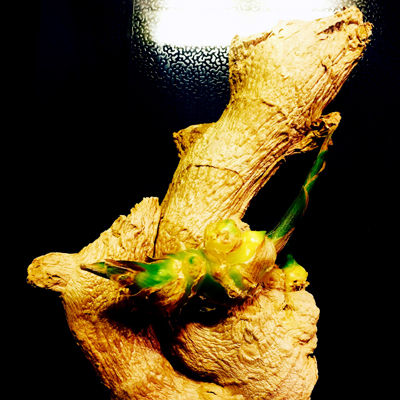 GINGER is fruity hot and healthy. This tuber with anti-inflammatory and antibacterial properties is said to help, for example with colds, travel sickness, stomach and intestinal complaints and muscle pain thanks to essential oils and pungent substances called gingerols and shogaols. Incidentally, ginger becomes more potent during prolonged storage. So if you like it mild, it is better to take fresh ginger.
Ginger is said to be pain-relieving because, like acetylsalicylic acid (the main component in aspirin), it acts on a pain-inducing enzyme called cyclooxygenase. Like aspirin, it is also said to reduce the risk of arteriosclerosis. Ginger is also believed to have cholesterol-lowering properties.
It contains vital substances such as vitamins B1, B2, B6 and C as well as calcium, iron, potassium and sodium, magnesium and phosphorus.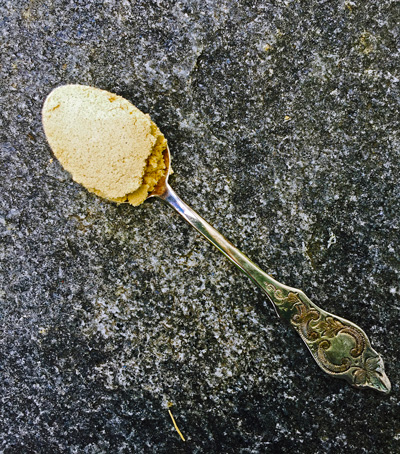 SACHA INCHI contains a particularly high proportion of valuable proteins, all 8 essential amino acids and omega-3 fatty acids, as well as omega-6 and omega-9 fatty acids.
Also called Inca nut, it is rich in vitamin A and E and contains the minerals calcium and magnesium.
It is well suited as an energy source for athletes, vegans, people with gluten allergies and for all those for whom a healthy diet is important.
Sacha Inchi is also a good alternative to fish oil. Compared to other vegetable oils such as olive, thistle or sunflower oil with a content of 1%, Sacha Inchi oil, for example, contains almost 50% of the essential omega-3 fatty acid alpha-linolenic acid.
A study by Cornell University in 1980 had examined the ingredients of this plant in more detail. Conclusion: Sacha Inchi is one of the best suppliers of vegetable omega fatty acids, which are also optimally balanced.
For keeping the body healthy, Sacha Inchi seeds have a positive influence on cholesterol levels, blood pressure and heart function due to their unsaturated fatty acids and proteins.
The vitamin E contained in the Sacha Inchi Seeds also serves, among other things, as an anti-aging agent and ensures beautiful skin. This vitamin also protects the cells from harmful stress symptoms. Vitamin E also improves the immune system by increasing the production of immune messenger substances and contributes to the rapid multiplication of immune cells.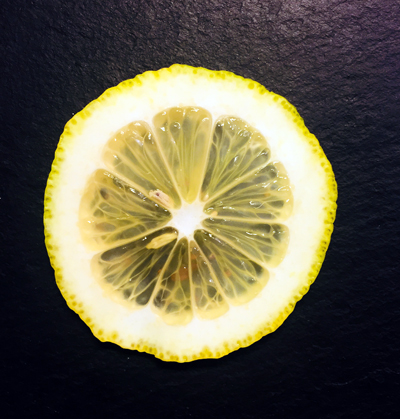 LEMONS are best known for their vitamin C content. There are also many other vital substances such as vitamins B1 - B9 and E, calcium, potassium and magnesium, iron and manganese.
The juice contains enzymes that support the body's own collagen production. Vitamin C also has an antioxidant effect.
It owes its wonderful scent to essential oils: limonene and citral.
Lemons have a fruity, fresh note and are thus able to give food and drink a pleasant aroma.
ENJOY!