Smoothies are undoubtedly the easiest way to consume healthy nutrients in a quick and easy way. This smoothie, rich in vital substances, combines immune-boosting and protein-rich ingredients with stomach-friendly and digestive properties.
INGREDIENTS:
1 cup milk or vegetable milk such as almond or cashew milk
2 tbsp. oats
1 - 2 tbsp. Sacha Inchi powder
1 banana (maybe freezed)
1 tsp. grated ginger
Time required:
5 minutes
Portions:
1 -  2
INSTRTRUCTIONS:
Put all ingredients in a blender and puree to the desired consistency
Tip: If you like it a little sweeter, you can also add maple syrup, honey or dates.
By the way, the smoothie becomes creamier and velvety if you use a frozen banana. And on top of that it tastes deliciously refreshing.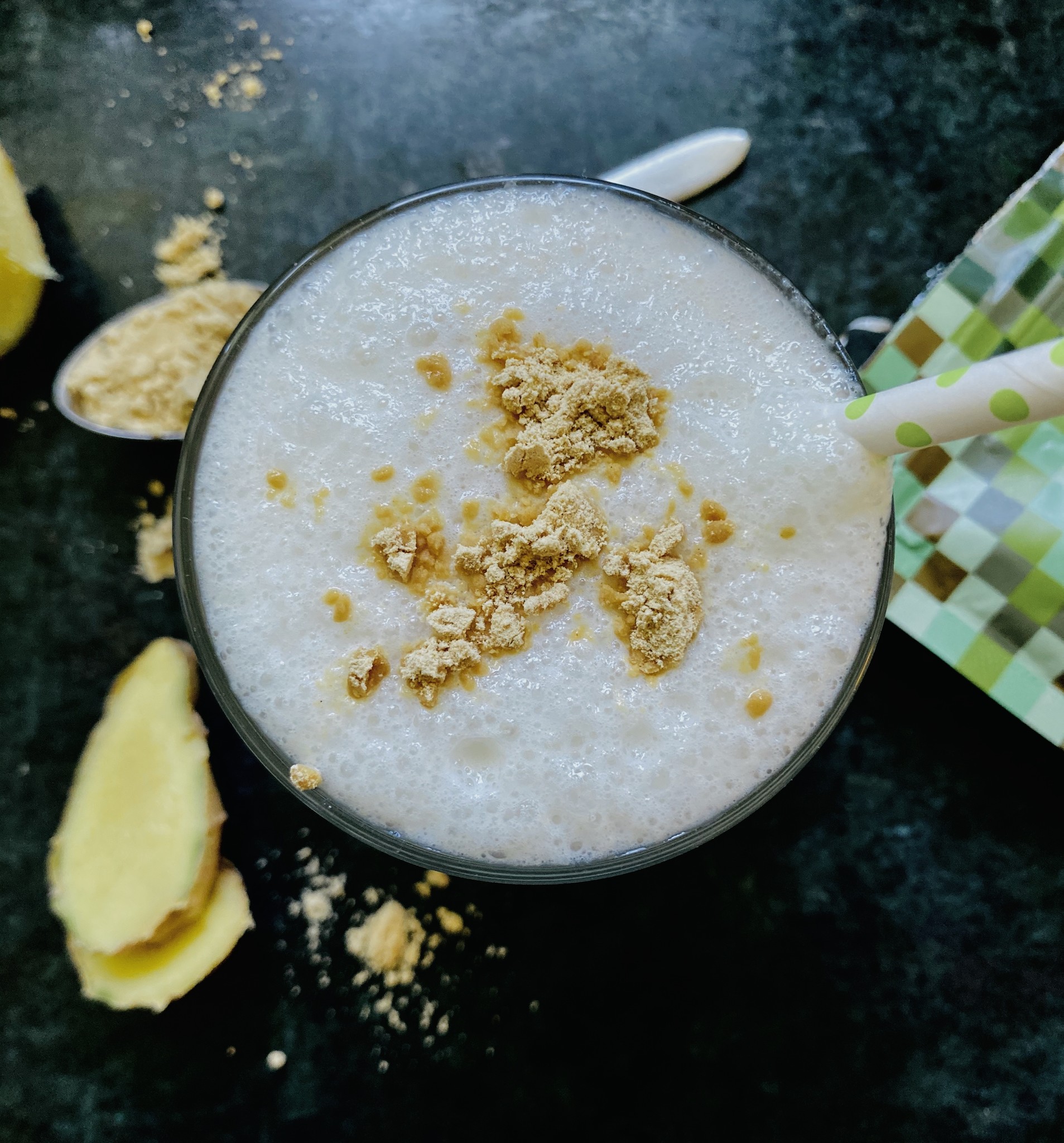 Nutrients:
ALMOND MILK is low in calories and contains no milk. It is produced by mixing finely ground, peeled almonds with water and other ingredients such as salt and sweeteners, vitamins and minerals.
For vegetarians and vegans, almond milk is a delicious herbal milk substitute, whereby the nutrients can vary depending on the supplier.
In any case, this milk has little calcium and much less protein than cow's milk, unless it is added. Here one should pay attention to the list of ingredients.
Incidentally, almond milk can also be produced by yourself. There are numerous instructions on DIY milk on the Internet.
BANANAS act on the production of serotonin through the amino acid tryptophan contained in them. This hormone is called a lucky charm, as it helps to lift up your mood. They are also very nutritious and rich in minerals like for example potassium and magnesium, what is good for athletes. They contain a fair amount of fiber and several antioxidants.
Bananas are virtually a natural doping agent and even more effective than isodrinks, because they improve athletic performance and physical recovery afterwards more efficiently than the artificial drinks. This was recently proven by an American study by Appalachian State University in North Carolina.
Phosphorus, vitamin C and vitamins of the B group complete their nutritional potential. They consist almost of water and carbs and have very little protein and almost no fat.
By the way, the more mature they are, the faster the carbohydrates are available for the body.
The yellow fruit is also good for digestion because, just like apples, they contain pectin, which can absorb too much water in case of diarrhoea and stimulate intestinal activity by a swelling effect in case of constipation.
FULL GRAIN OAT FLOCKS are low in gluten and score and have a high content of protein, minerals such as magnesium and phosphorus, trace elements such as iron and zinc and with vitamins B1, B2, B3 and B5, B6, B7, B9, E and K. They are also rich in unsaturated fatty acids.
They are also full of dietary fibres, such as pectin and cellulose. Especially the beta-glucan is interesting, as this soluble fibre is supposed to lower the cholesterol level and have an anti-inflammatory effect. When mixed with liquid, beta-glucan forms a viscous solution that protects the intestinal mucosa and causes the blood sugar level to rise only slowly.
In addition, superfluous substances are bound and thus better removed.
Beta-glucan is most abundant in oat bran.
Wholegrain oat flakes are either tender or firm, the ingredients are the same, but in any case the outer layers and the germ of the oat grain are included.
GINGER is fruity hot and healthy. This tuber with anti-inflammatory and antibacterial properties is said to help, for example with colds, travel sickness, stomach and intestinal complaints and muscle pain thanks to essential oils and pungent substances called gingerols and shogaols. Incidentally, ginger becomes more potent during prolonged storage. So if you like it mild, it is better to take fresh ginger.
Ginger is said to be pain-relieving because, like acetylsalicylic acid (the main component in aspirin), it acts on a pain-inducing enzyme called cyclooxygenase. Like aspirin, it is also said to reduce the risk of arteriosclerosis. Ginger is also believed to have cholesterol-lowering properties.
It contains vital substances such as vitamins B1, B2, B6 and C as well as calcium, iron, potassium and sodium, magnesium and phosphorus.
SACHA INCHI contains a particularly high proportion of valuable proteins, all 8 essential amino acids and omega-3 fatty acids, as well as omega-6 and omega-9 fatty acids.
Also called Inca nut, it is rich in vitamin A and E and contains the minerals calcium and magnesium.
It is well suited as an energy source for athletes, vegans, people with gluten allergies and for all those for whom a healthy diet is important.
Sacha Inchi is also a good alternative to fish oil. Compared to other vegetable oils such as olive, thistle or sunflower oil with a content of 1%, Sacha Inchi oil, for example, contains almost 50% of the essential omega-3 fatty acid alpha-linolenic acid.
A study by Cornell University in 1980 had examined the ingredients of this plant in more detail. Conclusion: Sacha Inchi is one of the best suppliers of vegetable omega fatty acids, which are also optimally balanced.
For keeping the body healthy, Sacha Inchi seeds have a positive influence on cholesterol levels, blood pressure and heart function due to their unsaturated fatty acids and proteins.
The vitamin E contained in the Sacha Inchi Seeds also serves, among other things, as an anti-aging agent and ensures beautiful skin. This vitamin also protects the cells from harmful stress symptoms. Vitamin E also improves the immune system by increasing the production of immune messenger substances and contributes to the rapid multiplication of immune cells.
Enjoy!