This creamy smoothie features immune-boosting CAMU CAMU and sweet pomegranate seeds help to see colours on misty autumn or winter days.
INGREDIENTS:
1 banana
1 mango
1 cup almond milk
1 tbsp CAMU CAMU powder
1 - 2 tbsp pomegranate seeds
Time required:
10 min
Serves:
1 - 2 serves
INSTRUCTION:
Peel banana and mango, cut into pieces and put them in a blender.
Add the almond milk plus 1 tablespoon of CAMU CAMU powder. Puree to desired consistency and pour into glasses.
Quarter the pomegranate and remove the seeds. Use this to decoratively cover the smoothie.
Either consume the rest immediately or use it later in another way. Pomegranate seeds, for example, can also serve as a great, healthy side dish in salads.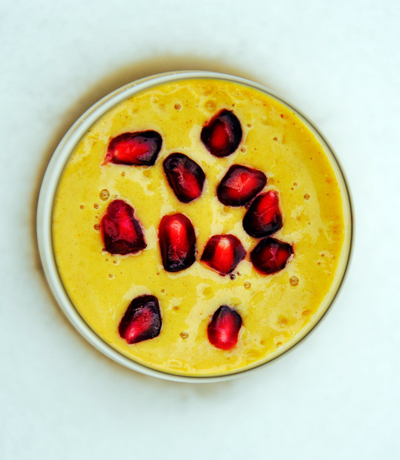 NUTRIENTS: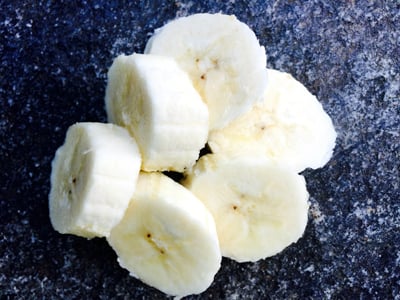 BANANAS act on the production of serotonin through the amino acid tryptophan contained in them. This hormone is called a lucky charm, as it helps to lift up your mood. They are also very nutritious and rich in minerals like for example potassium and magnesium, what is good for athletes. They contain a fair amount of fiber and several antioxidants.
Bananas are virtually a natural doping agent and even more effective than isodrinks, because they improve athletic performance and physical recovery afterwards more efficiently than the artificial drinks. This was recently proven by an American study by Appalachian State University in North Carolina.
Phosphorus, vitamin C and vitamins of the B group complete their nutritional potential. They consist almost of water and carbs and have very little protein and almost no fat.
By the way, the more mature they are, the faster the carbohydrates are available for the body.
The yellow fruit is also good for digestion because, just like apples, they contain pectin, which can absorb too much water in case of diarrhoea and stimulate intestinal activity by a swelling effect in case of constipation.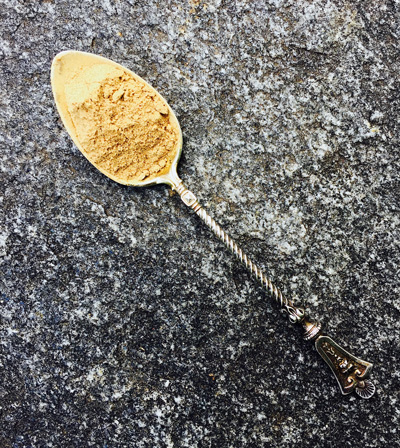 CAMU CAMU is one of the fruits with the highest natural vitamin C content in the world: it contains over 30 times more than an orange.
Also known as a free radical scavenger, the water-soluble vitamin C has an antioxidant effect. In addition, the body needs this vitamin for the metabolism. For example, it strengthens the connective tissue and helps with hormone production.
Vitamin C is also involved as a co-enzyme in the synthesis of collagen, whereby collagen acts as a binding agent, so to speak, to strengthen the cohesion of the cells in the body tissue.
Very important is its role in the absorption of iron in the intestine and in neutralizing carcinogenic nitrogen compounds (nitrosamines) from food.
The iron content is also high, almost 10 times higher than that of oranges and lemons.
In addition, Camu Camu provides 3 times more vitamin B3 and twice as much vitamin B2 than citrus fruits.
The Camu Camu fruit can also provide a high number of secondary plant substances.
Up to now the characteristics of this fruit have not yet been researched down to the last detail, but scientists suspect that the high vitamin C content has a positive effect on the metabolism in the brain and thus provides for a higher memory performance and alleviates depression.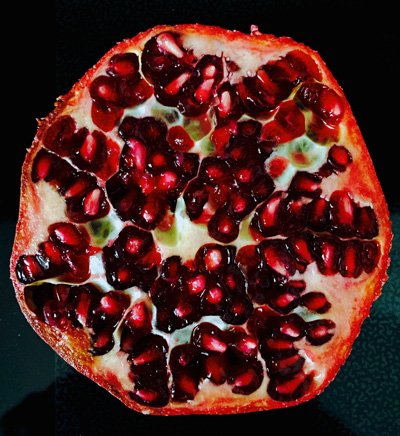 POMEGRANATE - is a true power fruit. Bright red and with many small and fruity seeds, it scores with vitamins, minerals and secondary plant substances. Vitamin C, B1, B2, B6, folic acid and vitamin E as well as beta-carotene can be found here.
The minerals and trace elements contained in this fruit are mainly potassium and calcium, iron and magnesium as well as phosphorus and zinc.
It also contains up to 20 different polyphenols, especially flavonoids and tannins, which have an antioxidant and cell-rejuvenating effect and also strengthen the immune system.
They are also said to have a stimulating effect on the digestion thanks to their bitter substances and to be anti-inflammatory, to lower the cholesterol level and to be able to keep the blood sugar level constant. According to studies, they are also said to have a positive influence on prostate cancer.
Likewise a positive effect is to have pomegranate juice with the fight of cancer of the breast, as research results show.
Pomegranates grow in the tropical or subtropical climate. And they also have another advantage: they have a long shelf life and few calories: 100 g contain 74 kcal.
One should also pay attention to interaction with drugs, similar to grapefruit juice. Because after consumption some substances are broken down more slowly.
ALMOND MILK is low in calories and contains no milk. It is produced by mixing finely ground, peeled almonds with water and other ingredients such as salt and sweeteners, vitamins and minerals.
For vegetarians and vegans, almond milk is a delicious herbal milk substitute, whereby the nutrients can vary depending on the supplier.
In any case, this milk has little calcium and much less protein than cow's milk, unless it is added. Here one should pay attention to the list of ingredients.
Incidentally, almond milk can also be produced by yourself. There are numerous instructions on DIY milk on the internet.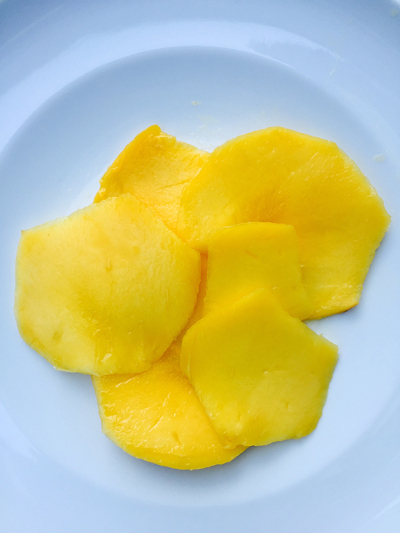 MANGO is a strong provitamin A supplier and thus helps in the cell renewal of skin, mucous membranes and cartilage tissue as well as the strengthening of vision.
Its vitamin C is good for the immune system and its iron for blood formation.
It also has a probiotic effect, regulates blood sugar levels and contains many minerals.
It also influences the fat metabolism, as the tropical fruit reduces the production of the hormone leptin.
A study of the Oklahoma State University came to the conclusion that regular consumption of mango has a positive influence on intestinal health. The reason for this is said to be its fibre and other bioactive ingredients.
Enjoy !