INGREDIENTS:
1 cup cashews
1/3 cup water
1 - 2 jalapeno peppers
1 teaspoon salt
1 clove garlic
a handful of parsley
2 teaspoons mesquite powder from

mysuperfood.ch
Time needed:
2 h to soak the cashews, 10 min for preparation 
Portions:
Makes about 1 - 2 cups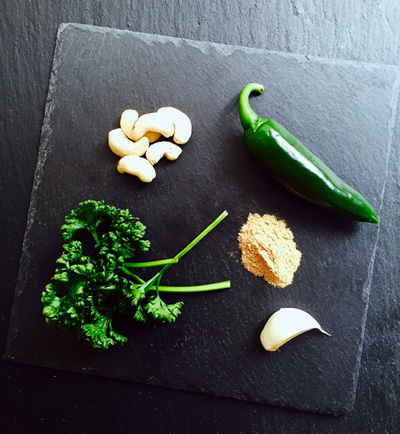 PREPARATION:

Put the cashews in a bowl and cover them with water, they should be barely covered.
They need to soak for about 2 hours.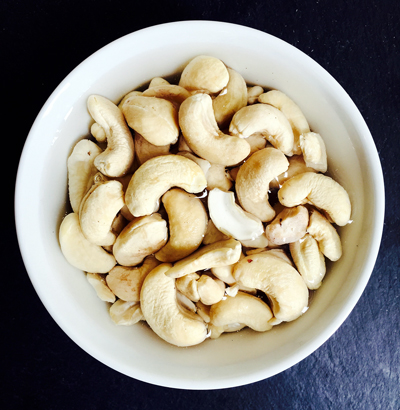 Wash the jalapenos, cut them into slices, put aside a few for decoration. Those who do not like it very hot, can remove the seeds and the white inner skin, because that's why jalapeno peppers are hot.
Peel garlic, also cut into pieces.
Wash the parsley, cut them finely, maybe keep a few leaves for decoration.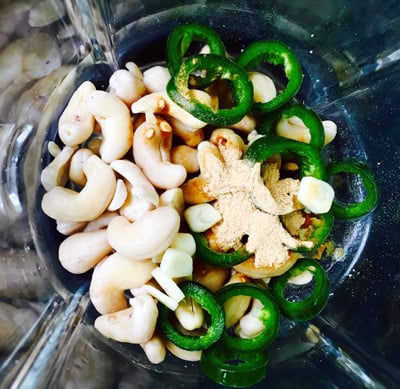 Drain and rinse the cashews and put them along with jalapenos, garlic, parsley, lime juice and mesquite powder, salt and pepper in the blender and puree to the desired consistency.
Who has more time available, can soak the cashews up to 12 hours, puree and then leave again at room temperature for 12 hours. The aim is to ferment the cream and develop more flavor. This tip I got from the book by Susanna Bingemer, Superfoods
The cashew dipping sauce tastes delicious on bread or crackers and tastes great being combined with vegetables.
For 3-4 days you can store the cashew sauce in a fridge or if you have prepared too much, just freeze it.
Nutritional Values:
CASHEW NUTS - native to Brazil -  are packed with a lot of minerals like copper, phosphorus, manganese and zinc,  especially magnesium and iron, and vitamins that are essential for a robust health. They consist of 19 percent from proteins and of 50 percent fat. They have more carbohydrates than other nuts.
Thanks to their high antioxidant content they have cardio-protective benefits. Many researches have shown the protective effects of nuts  citeseerx.ist.psu.edu
Copper is an essential component of many enzymes and plays an important role in physiological processes like the production of blood cells, regulation of heart rate and pressure and absorption of iron.
It's also important for development and maintenance of bone, connective tissue and organs. At least it is necessary for the activation of the immune system.
Researches try to find out the protective benefits for many diseases, including degenarative neurological disorders ncbi.nlm.nih.gov
And: cashews contain 31 % of the daily recommended value for copper.
Magnesium helps to regulate nerve and muscle tone. Not to have enough of magnesium can contribute to high blood pressure, migraine and muscle cramps. Furthermore this mineral improves cognitive ability.
You find no cholesterol in cashews, but the good kind of fat, similar to oleic acid found in olive oil. 
Cashews are great when mixed with cereals in a breakfast bowl or served as butter. They are also a crunchy addition to any stir-fry recipes.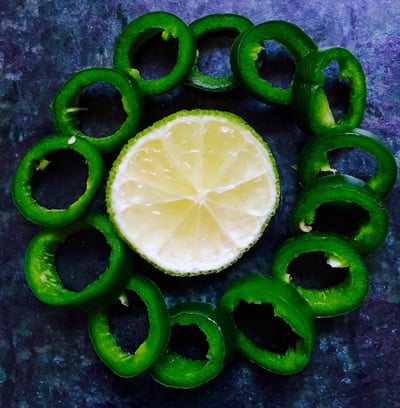 JALAPENO PEPPERS are originated in Mexico and popular in the North American cuisine. They can be really hot, but this makes them so healthy. You find vitamins - especially vitamin C - and minerals and capsaicin. This alcaloid compund is the reason for its spicy and hot character. It has antibacterial, anticarcinogenic, analgesic and antidiabetic properties, furthermore it stimulates the metabolism and increases due to a short-term increase of stress hormones calorie consumption. It improves circulation and helps fight infections and digestive problems and is considered a tonic of potency and libido.
In medicines capsaicin helps muscle- and joint pain and rheumatism. It also acts antioxidantiv. And the more it tastes hot, the more it acts against free radicals. But: this does not mean that one should eat too much at once hot jalapeno peppers, because it can have the opposite effect like a high blood pressure.
It makes you also happy, because when eating hot food endorphins are increasingly distributed, called endorphins.
Capsaicin assists the regulation of blood sugar and cholesterol levels and supportive effect in liver function.
In fresh Jalapeno Peppers you find more vitamin C, which is a potent water-soluble antioxidant and important for example the collagen synthesis within the body. It helps to maintain the integrity of blood vessels, skin, organs, bones and tissues.
At least you find other antioxidants such as vitamin A, E and flavonoide. These substances helps to protect against the effects of stress and its consequences.
Vitamin K is also found and important for the calcium incorporation in the bones and for blood coagulation.
Jalapeno Peppers can be excellently used to spice and being an eye catcher in salads and sauces. Just try.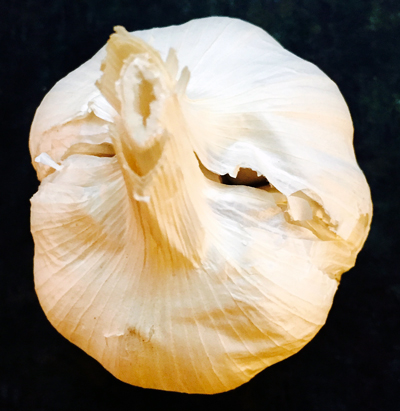 GARLIC is not only very healthy, but also has a strong aroma. Especially fresh garlic can taste hot, what's not good for a sensitive stomach. But when fresh consumed the ingredients are just at the healthiest .
Garlic contains many vitamins and minerals, including vitamins A, B and C, as well as potassium and selenium. Valuable phytochemicals such as polyphenols or sulfides are also there. In addition, garlic scores with a comparatively high content of adenosine - a module which is essential for cell metabolism.
You find sulfur compound Ajoen plays an important role in blood clotting. It is able to prevent this and may even make incipient clot reversed.
Garlic has defensive strengthening, is antiseptic due to its ingredients and improves blood flow in the coronary arteries. It lowers high blood pressure, regulate cholesterol and may reduce the danger of thrombosis.
So called phytoncides cooperate with the sulfur compound allicin as natural antibiotics without harming the body. The often unpleasant odor after the consumption of garlic is by the way of sulfur-containing ingredients such as for  example aliin , which is converted to allicin. But just the sulfides are the ones who have such a positive effect on health.
Garlic has also influence on the digestive system: It regulates the intestinal flora and helps against flatulence.
Since garlic particular stimulates blood circulation and has ingredients that are similar to the sex hormones, it also affects libido.
Something is unfortunately unpleasant after you have consumed garlic: The smell of it, which will then be discharged. To chew parsley or coffee beans or coffee grounds should help. Whereby to eat parsley is the more yummy variant.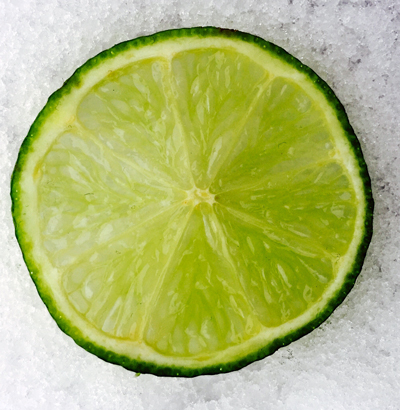 LIME is the little sister of lemon. The fruits are small, acidic, but have twice as much juice as a lemon. This does not mean that they have twice as much vitamin C. But at least enough to cover half of the daily requirement.
Their essential oils make them valuable, minerals such as calcium, potassium and phosphorus and trace elements, especially iron and zinc, and vitamins A, B1, B2, B6, E and folic acid, which is important for cell division.
In lime flavonoids and the phytochemical d-limonene are included, a major constituent of the essential oils of citrus and spice plants. This should act anticarcinogenic. This effect has been investigated in several studies pubs.acs.org
Incidentally, there is the highest proportion of d-limonene in the white skin of citrus fruits. One should not necessarily remove it.
Lime juice has also a germicidal and disinfecting effect, as a study of malaria ill children has shown  ncbi.nlm.nih.gov
Citrus juices are to assist in the blood and kidney cleanse and strengthen the liver function and overall be useful due to their alkalizing effect in the body.
Because lime tastes so spicy, it is often used in cocktails, juices and salads. What would finally a caipirinha be without lime juice?
 
MESQUITE contains a number of valuable ingredients: various minerals such as calcium, potassium, magnesium, iron and zinc, and the important amino acid lysine, and is rich in protein and dietary fiber.
Thanks to its minerals, mesquite helps keeping bones and teeth healthy, support the cardio-vascular system and the immune system, and increases performance.
The great number of dietary fibers ensures a long lasting feeling of fullness.
PARSLEY is a highly nutritious herb with a delicious and vibrant taste and healing properties. Its volatile oils have been shown in many studies to help the body to neutralize some types of carcinogens.
It's a rich source of antioxidant nutrients thanks to their flavonoids, especially luteolin.
In addition parsley is a good source of vitamin C and of the pro-vitamin A carotenoid, beta-carotene, vitamin K, folate, iron and copper, potassium, Calcium and fiber, magnesium, zinc and phosphorus, the vitamins B1 and B2, B3 and B6 and manganese.
The herb contains one of the most important B vitamins: folic acid. It plays numerous roles for body health, for example the heart function. It's necessary in the process through which the body converts homocysteine into benign molecules. To have high levels of homocysteine is bad for the blood vessels, they can damage them and increase the risk of heart attack and stroke.
For a proper cell division folic acid is also an important nutrient and therefore vitally important for pregnancy and cancer-prevention.
You find an in-depth nutritional profile here.

And here you find 11 health benefits of parsley according to Science +4 delicious recipes.
This native to the Mediterranean region herb should not be used just for decoration, it' s too valuably for our health.

Enjoy your meal !